SHIPPING & RETURNS
Free Shipping from $200!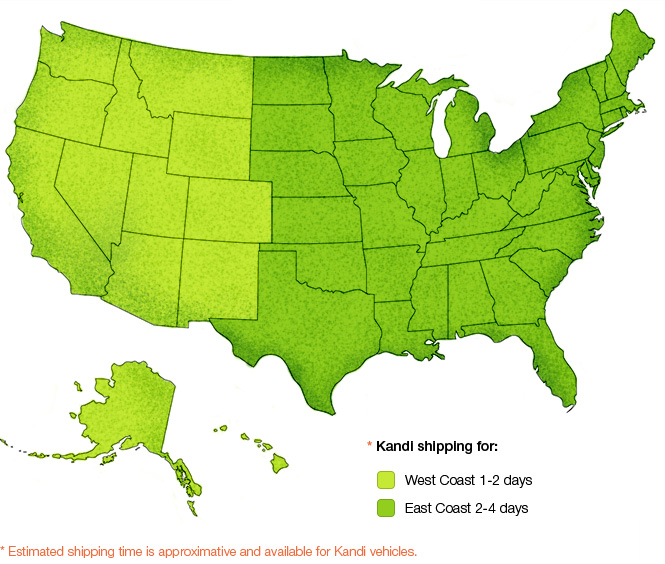 Returns and Refund Policy
You may return most new, unopened items within 10 days of delivery for a partial refund (excluding shipping costs). We do not pay the return shipping costs. If you return an item, shipping costs will be your expense. This is due to most of our shipments having extremely high shipping cost of $50,100,150,200,250,etc. for a typical one-way shipment.
Once your order is placed, you have 2 hour from time of the order time to contact us and cancel your order for a full refund or to void your order.
We do not allow refunds or exchanges accepted without the authorized approval from each individual manufacturer. After you receive your item and assembled the product, we do not accept returns. If your item has been assembled, driven and used in any way, we cannot accept the return.
If your product has been approved and authorized for a return due to being defective, damaged upon receipt or for any other reason, you as the customer are still responsible for all shipping costs whether they are back to the manufacturer and/or for a new shipment back to your door. This is due to extremely high shipping costs and industry related manufacturer policies.     
If you are not 100% satisfied with your purchase, you can either return your order for a full refund or exchange it for something else. You can return or exchange your purchase for up to 120 days from the purchase date. Returned or exchanged products must be in the condition you received them and in the original box and/or packaging.

Q: What if a product arrives in a box in poor condition or the box appeared to be open?

A: You should refuse the shipment if the box appears very damaged or opened. If the box is slightly damaged, you should be sure to note the damage on the bill prior to signing.

If the return is a result of our error (you received an incorrect item, etc.) then we will return your item at no cost to you. However, if an item is opened and gas is poured into the gas tank, it is not eligible for a return even if it is in good working order.


Refund timeframes are typcically within 2-4 weeks of giving your package to the return shipper. However, in many cases you will receive a refund more quickly. This time period includes the transit time for us or the manufacturer to receive your return from the shipper (5 to 10 business days), the time it takes us or the manufacturer to process your return once it is received (3 to 5 business days), and the time it takes your bank to process our refund request (5 to 10 business days).
If you need to return an item, simply login to your account, view the order using the "Complete Orders" link under the My Account menu and click the Return Item(s) button. Or simply fill out the "Contact Us" form on our website. We'll notify you via e-mail of your refund once we've received and processed the returned item.

Shipping
We can ship to any address in the United States. Note: There are restrictions on some products, and some products require a handling fee for parts and/or a handling fee for East Coast orders to the US.
When you place an order, we will process your order usually within 2 business hours and if a manufacturer is involved, they will receive the order within 2 business hours. From there, the manufacturer will begin the pick process and may ship your order in the same day as they receive your order. But usualy it takes 3-5 days for the order to be shipped. Delivery time within USA is about 5-10 days.
Free shipping is available for most items and if available, it will be reflected on the product page and in the shopping cart when you checkout. Note: Some states may require an extra handling charge. Depending on the shipping provider you choose, shipping date estimates may appear on the shipping quotes page.
Kandi go karts&ATVs shipping time
Kandi vehicles are shipped from California, so that shipping takes 2-4 business days for East Coast and 1-2 business days for West Coast.
ScooterX shipping time
ScooterX ships from Nevada. It takes 2-3 business days for Western time, Central time 2-3 business days, and Eastern time expect 4-5 business days for delivery.
GoPed scooters shipping time
Shipped from New Jersey, a GoPed scooter will be to you door in 1-2 days for East Coast, 3-5 for Central part and 5-6 for Western states.
For more questions on shipping and returns, fill out the form below:
X-TREME Electric Bicycles & Scooter
All of our X-Treme Scooters ship out of the X-Treme warehouse located in Washington State.
Large items that ship by freight (the XB-504 & XB-615 units) include Free Shipping to the nearest freight terminal or to a business address. (Home businesses do not qualify as a business address, business addresses must be to a commercial business location). A business address must have a loading dock to qualify for free shipping also, if it does not then they must pay the additional $30 fee for lift-gate delivery. Resorts, camp grounds and hotels do not qualify for business delivery.
Home delivery of freight orders is an additional $50 per order, not per item. This includes delivery to the customer's residence outside/curbside to ground level.  It does not include inside delivery or delivery inside an apartment complex to upper or lower levels.  We strongly suggest customers pay for home delivery of these large freight items unless they are prepared to drive to the nearest terminal and load / unload these large heavy items themselves. The closest terminal may be more than 30+ miles away from the customer's residence if they do not live in a major city where the carrier used has a terminal for pick up.  We will automatically ship any terminal p/u shipment to the terminal that is less than 30 miles distance from the customer.  If it is more than that you will be contacted with terminal information so that you can inform the customer and they can confirm they still wish to pick up.  If the customer wishes to change to residential delivery after an item has shipped, there are additional fees subject to be charged besides the standard $50 fee.
Any freight delivery that is not picked up at  the terminal or refused by the customer is subject to all shipping charges (original and return) being withheld from the refund.
A phone number is required by the freight company so a delivery appointment can be made.  Failure to provide this at the time of order may cause a delay in delivery as freight items will not be delivered without an appointment.
An additional $50 fee is also charged for shipping to New York City & Suburbs, Martha's Vineyard and any island delivery within the 48 contiguous United States.
Shipping cost is determined by 4 factors: ground, freight, delivery location, and zip code.
$0.00 Extra Cost =  If item being shipped is a part.  These ship via USPS, UPS or FedEx.
If unit is shipped by ground via UPS or FedEx.
If unit is shipped by freight but picked up at the terminal or to a commercial business address that has a loading dock.
$30.00 Extra Cost = If unit is shipped by freight to a business address that does not have a loading dock.
$50.00 Extra Cost = If unit is shipped by freight home delivery to customer's residence.
If unit is shipped by freight to terminal or a business address in NYC Area, Martha's Vineyard or Island Delivery within 48 contiguous United States.
$100.00 Extra Cost = If unit is shipped by freight home delivery to NYC Area, Martha's Vineyard or Island Delivery within 48 contiguous United States.
$150.00 Extra Cost = If unit is shipping to Canada by freight home delivery.  Shipping only, customs & duties are paid by the recipient.  See section on Canada for more info.
$210.00 Extra Cost = If unit is shipping to Canada by ground (FedEx or UPS).  Includes customs & duties fees.  See section on Canada for more info.
CALIFORNIA
NO Gas Models (XG series) can be shipped to California for any reason. California has much stricter EPA regulations and our units do not meet all the required regulations for carb certification. Any order placed for an XG series unit to ship to California will be cancelled.
APO ADDRESSES
If a unit weighs more than 70 pounds it is unable to be shipped via USPS to a APO, as USPS is the only method to ship to APO they are unable to order bigger units. (It also can take 3-4 weeks for a unit to be shipped to an APO address).
Units under 70 pound units are: XG-555, City Express, Trail Maker, Trail Climber, X-Cursion, Newport and Malibu.
Transit Time Maps from Our Washington State Distribution Center (X-TREME)
Shipments will originate from Tacoma Washington (Seattle Area) (See map below)